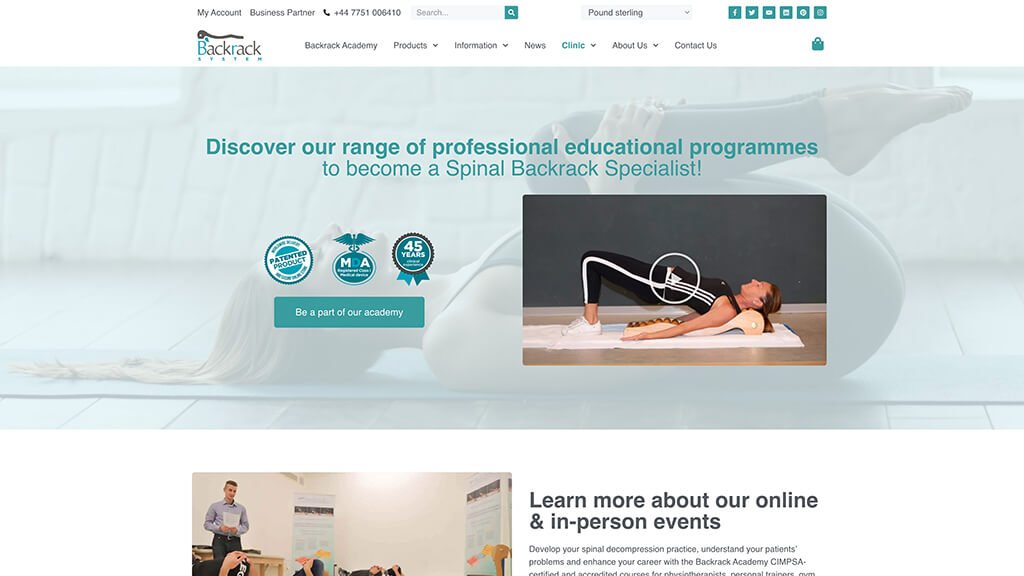 Backrack Academy
Introduction:
Our client aimed to provide quality education to healthcare professionals. They sought to enhance their offerings by integrating the Spinal Backrack product, a non-surgical solution for back pain, into their platform.
What We Have Done:
We identified the need to provide practical solutions alongside theoretical knowledge. We crafted a visually appealing layout reflecting the client's brand identity and ensured the website is optimized for all devices to provide a great user experience. We also created an E-Learning platform to let people learn and pass the tests online.
Usability tests ensured a seamless user experience, and we continuously monitored and evaluated user engagement.
Results:
The integration yielded positive outcomes, providing comprehensive learning experiences for healthcare professionals. The interactive content improved engagement and knowledge retention. The created learning platform improved the website's presence as an online education platform for healthcare professionals.
Conclusion:
The revamped website generated increased organic traffic, improved user engagement, higher customer retention rates, and enhanced brand reputation. This case study highlights the value of strategic partnerships and innovative product integration in the medical industry.
One step away from starting to gain more customers
Here is the sobering truth: You are currently getting customers despite your website and not because of your website.
What if more of your dream customers would get in touch with you - without having to go to trade fairs or cold calling?
Invest only 2 minutes of your time to answer our questions and get your FREE personal strategy.
Free Strategy Session